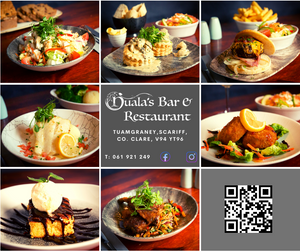 FOR TAKEAWAY PHONE IN ON 061 921249
Food served daily [CLICK FOR MENU]
Mon- Fri 9.30am to 9pm
Sat from 10am - 9pm
Sun from 12 noon
Breakfast [CLICK FOR MENU]
Mon to Fri 9.30am - 12.30pm
Sat 10am - 12.30
(please note: due to fluctuating prices, some prices on the website menus may vary from the prices on the menus in the restaurant. We apologise as this is beyond our control).
TAKEAWAY AND BOOKINGS BY TELEPHONE ONLY 061 921249 ☎️
---
This section doesn't currently include any content. Add content to this section using the sidebar.
Céad míle fáilte
Our pub has been part of life in Tuamgraney since 1850 and we are proud to still serve our locals and all the visitors to the area to this day.
We are famous for our quality of food and drink, and we pride ourselves on the warmth of the welcome that you will receive when you visit our premises. You may be a stranger when you enter, but you won't be when you leave!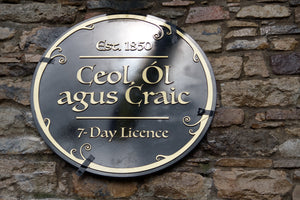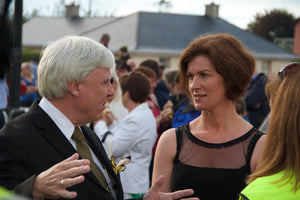 As seen on RTÉ's "At Your Service"
Nuala's Bar & Restaurant was featured on RTÉ's "At Your Service" with Francis Brennan who in his own style worked with Nuala to transform the restaurant and bar. Since then, Nuala's has continued to attract local and regional customers and has been adding to the wonderful local cuisine and gourmet pub food. From 7th June Nuala's is back with a bang with outside dining, take away, private catering menus as well as some amazing picnic options for small groups. Francis will be in for a surprise when he visits again!
Nuala's Bar & Restaurant
Tuamgraney, Scariff,Co. Clare, V94YT96
ORDER PICK UP TIMES
DAILY 12PM-8PM